Traditional Christmas Parties
There's nothing quite like the great British Christmas party! If you want a retro bash, our Christmas party organisers will do you proud. Throw a classic bash with all the trimmings and give guests a hearty helping of that old festive magic.
Traditional Christmas parties follow the tried and trusted formula. Eat industrial quantities of food, enjoy a tipple or two and dance to disco Dave's cheesy classics. There's a reason why everyone knows the words and moves to YMCA!
Traditional Christmas party events get everyone involved, from the office cynic to the super cool exec. Watch the wallflower hit the dancefloor and your boss loosen his tie.
We organise classic Christmas party events with a contemporary twist. When we say retro, we don't mean dodgy dinners, tacky decorations and terrible entertainment! You will get the all the charm of Christmas parties past without the naff bits.
Think first class turkey dinners with top class trimmings and evening entertainment that's on the right side of retro.
There are plenty of options to explore. Traditional Christmas parties are tailored to suit each client so if you have a special request or a specific idea, just let us know. We'll do our best to make the magic happen.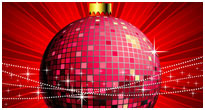 Christmas Disco
The classic Christmas party package with all the trimmings. When everyone's licked their plates clean and polished off a few drinks, it's time to hit the dancefloor.
See More ››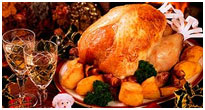 Christmas Meal
The grand daddy of Christmas parties! If you want to make the meal the main event. Keep it traditional or do something different and explore cuisine choices from around the world.
See More ››