Parsian Promise Evening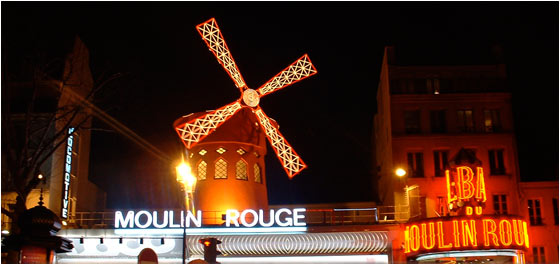 Unleash your bohemian side with the Christmas party that's cooler than most! Welcome to Paris in the early 1900s and the world famous Moulin Rouge. We're talking petticoats, high kicking dancers and hedonism. Strap yourselves in, people - it's gonna be a wild ride back in time.
Our Christmas party planners will turn your venue into a private Parisian club for an evening of pure decadence. Guests will leave worries and cares behind as they enter via the Montmartre entrance to the sound of a French accordion. Once inside, they'll be greeted by the sight of crushed velvet drapes, red and black plumes and a stunning backdrop of Paris by night. Everything is illuminated by a soft red glow. Think club-cum-boudoir and you've cracked it.
Forget dodgy discos and karaoke. Tonight you'll be treated to Christmas party entertainment, Moulin Rouge style! Guests will mix and mingle with stilt walkers, showgirls and caricaturists plying their trade.
When guests have demolished dinner, it's time for the real Christmas party entertainment. A troupe of dazzling French courtesans in full costume will take the black and white chequered dancefloor by storm with high kicking moves.
Why settle for a bog standard Christmas party? Experience the magic and promise of Paris and party like its 1909!
Please call one of our event co-ordinators for a Parisian Promise proposal on 01773 766050 or click here to Contact Us.