Giant Scalextric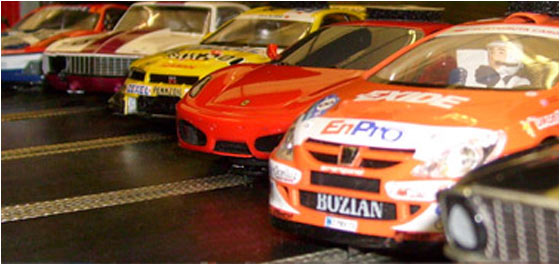 Looking for Christmas party events guaranteed to get the adrenaline levels up? Try our Giant Scalextric for size. It makes a welcome change from the bog standard dinner and disco. Wow guests with a grand prix that has all the appeal of retro slot car racing. It's time to get stuck into some big boys' toys!
Christmas party entertainment doesn't come any cooler than this!'p>
Experience the cut and thrust of grand prix racing with our 16ft x 18ft replica of the famous Spanish Catalunya circuit. Guests can race a selection of super slick cars including:
Mercedes touring cars
Porsche 356 speedsters
Ferrari F50
F1 cars
At the start of the night, guests are invited to bid to buy a racing car and compete in qualifying heats followed by the main event. Which car will be first past the chequered flag? Fun money will be supplied so no one ends up out of pocket. Ask us about including Christmas party prizes to get the competitive spirit pumping!
Add the F1 simulator or radio controlled cars into the mix and move your Christmas party entertainment up a gear.
Please call one of our event co-ordinators for a Giant Scalextric proposal on 01773 766050 or click here to Contact Us.