1920's and 30's Themed Party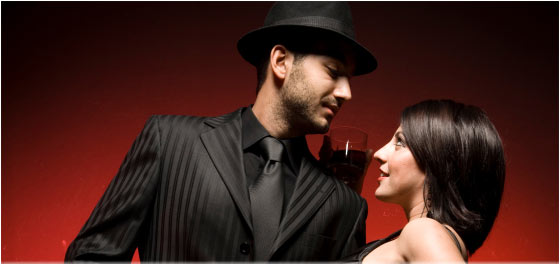 We're talking gangsters, gin cocktails and flappers in shockingly short skirts! If you want a Christmas party theme guaranteed to get guests excited, a 1920s themed event is the answer. Let us whisk you off to the era of jazz, speakeasies, gambling and decadence.
Dust down the pinstripe suits and feather boas, folks! It's time to party like it's 1929.
Everything will be authentic, from the decor to the Christmas party entertainment.
Our Christmas party organisers will transform your venue into a bona fide speakeasy. Guests will be greeted at the door by burly bouncers and gain entry with a secret password. We suggest serving welcome cocktails in tea cups - just like they did back in the day. Guests can mingle to the strains of carefully chosen background music. We'll get everyone in the right mood with some finger-snapping jazz.
Your Christmas party venue will look the part on every level. Low-lighting, classy decor and backdrops will evoke the spirit of the era. We'll even throw in gangster hats for the guys and headbands and pearls for the girls!
Room theming includes:
8 huge wall posters featuring iconic figures such as Al Capone
Black and white room bunting
Black table covers
Gangster-themed menu holders and place cards
Silver helium balloons
Christmas party entertainment makes the difference between a memorable event and a dull do. When dinner is finished, treat guests to a live show. As it's the 1920s, get into the swing of things with a three-piece jazz band and a couple of peppy Charleston dancers.
When the show's over, a DJ will take the helm. Guests can get their groove on to tunes past and present.
Book additional Christmas party entertainment and give guests even more to talk about! Consider one or more of the following:
Gangster-run casino
Gangster shooting gallery
Robert DeNiro lookalike
Caricaturist
Our Christmas party organisers don't simply abandon you on the evening. One or our event managers will be there to make sure the whole operation runs without a hitch!
Please call one of our event co-ordinators for a 1920's party proposal on 01773 766050 or click here to Contact Us.