Race Night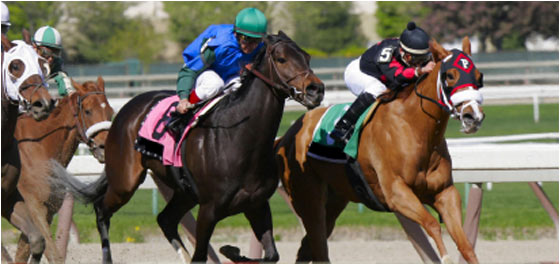 Everyone loves a little flutter, especially during the festive season. Turn your Christmas party into a day at the races - without breaking the bank! Everyone will be supplied with race cards and fun money at the start of the night. If you want to raise the stakes, ask us about including prizes for those with the most money at the end of the evening.
When we say a day at the races, we mean it! Christmas parties are big celebrations that need to make an impression. We'll make sure your venue really looks the part and keep the atmosphere on top form.
Think tote booths for placing bets, a bookie in costume, LCD screens, tote tickets and a white picket fence. Our excitable commentator will add his unique charm to the race experience!
Anything could happen when the horses start galloping on the big screen. There are eight races incorporating flats and hurdles. We'll add a twist to the Christmas party entertainment by auctioning off horses for the last race.
Guests can try their luck alone or team up and increase their chances of winning.
A great alternative to the usual Christmas party events, Race Night will keep guests engaged all evening. It's real edge of your seat stuff!
Please call one of our event co-ordinators for a race night proposal on 01773 766050 or click here to Contact Us.